The nursery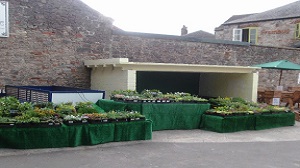 OUR POP UP NURSERY is now open for you to view and buy from us on Friday or Saturday at the courtyard 38 Market Street Wells Somerset BA5 2DS early March to the end of September. During October we will be selling more seasonal goods including winter baskets and tubs made up from some of our own evergreen alpines plus winter pansies.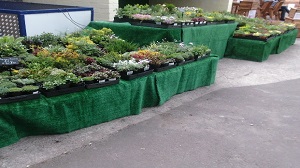 We are building up a good range of alpines and low growing perennials choosing varieties which are both easy and hardy providing good drainage is available when necessary. If you are planning a rockery, raised bed or simply looking for quality plants for your garden borders give us a visit, thanks graham.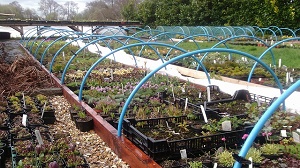 Some of the nursery growing area near Wedmore with plants at all different stages of life before they find their way to your garden. We aim to grow our plants outdoors to provide a strong plant with a good colour to the foliage making them easy to replant in a garden enviroment.
CONTACT graham at tadhamalpines@aol.com